Let's start with the agony. I blocked Belle Epoque and the yarn is just so soft, it's a dream. I love the color, I love the soft texture, I hate the sweater.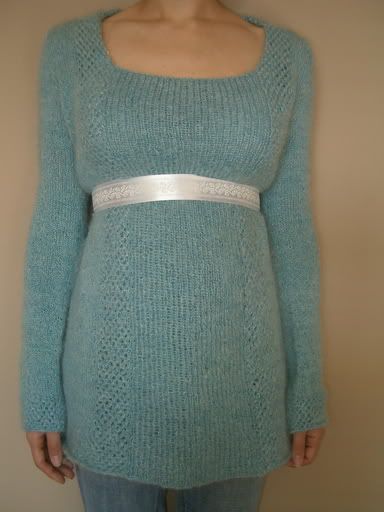 The belt is just to fiddly for me and I haven't even attached the crushable ribbon roses yet. Plus the empire waist instead of camoflaging my less than perfect stomach just accentuates the fact that I've had three children and can't do a proper sit up. But the sweater is miles to long to wear without the belt. Without the belt I'm swimming in a sea of blue yarn. I may try to frog it from the bottom because I think I might like it if it looks like this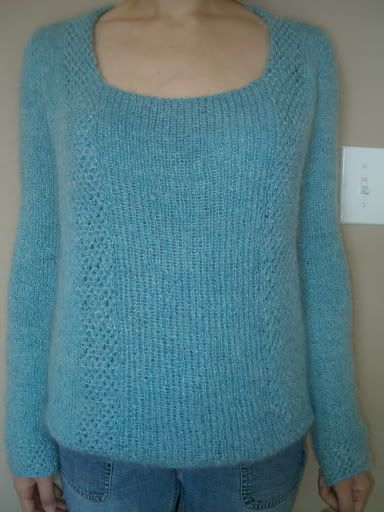 Doesn't that look better? Or I might just frog the entire thing and try to make it something new, but mohair is so hard to frog. I'll probably just hide it in the back of my closet for a few years until I can donate it to Goodwill with minimal guilt about all the time and effort I put into it.
That's the agony, here's the ecstacy and her name is the Nicole Camisole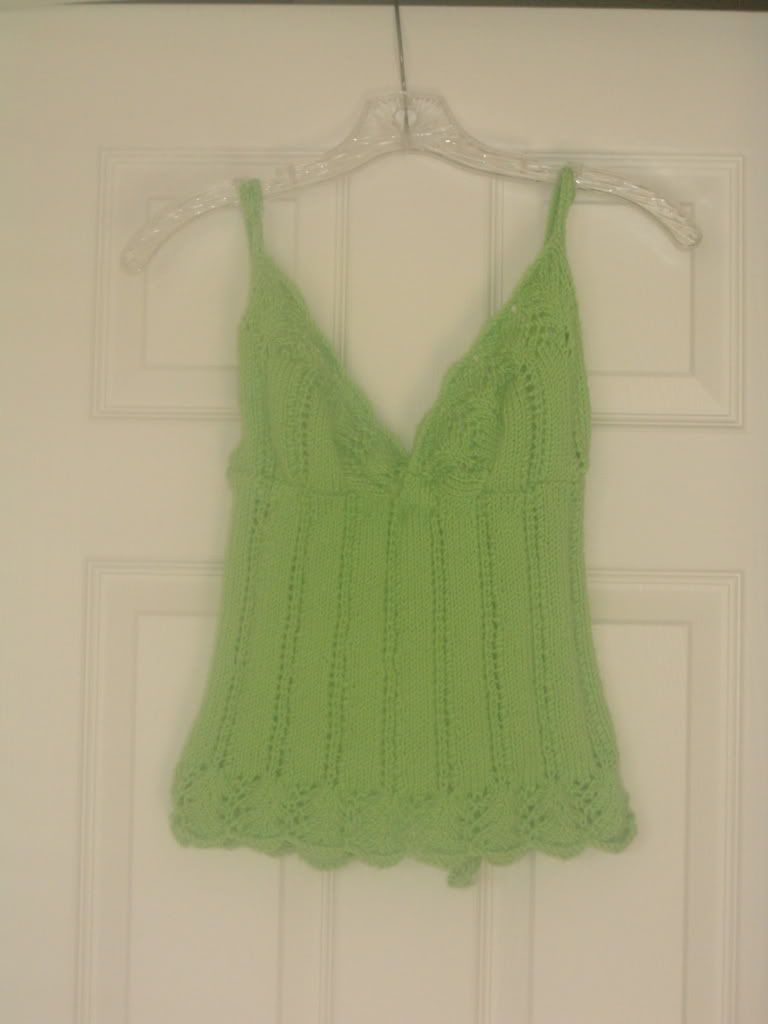 She's just as pretty from the back too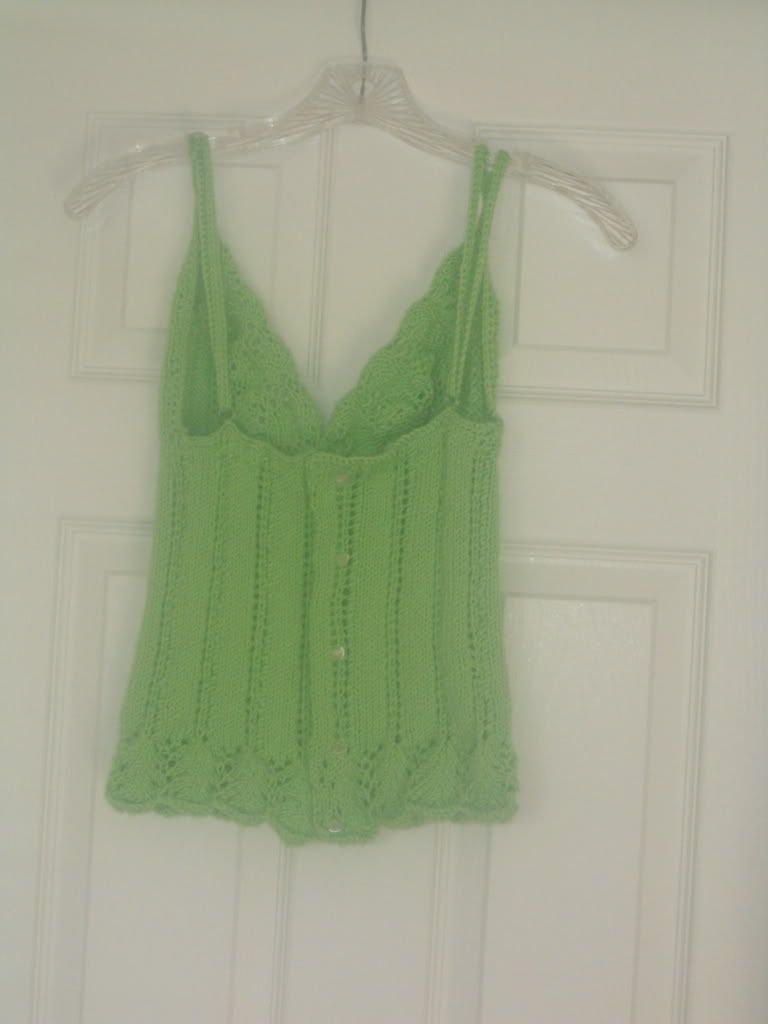 I finished her in three days. She took two days to knit, and one day to sew together. She's beautiful, and fits like she was made just for me (and she was). She's one of those rare projects that just flow together with minimal swearing and makes it all worth it. Her buttons need changed though.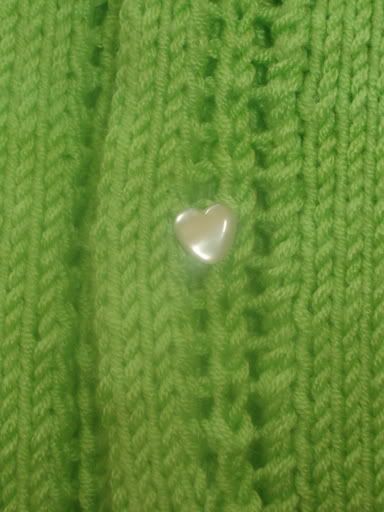 They're very pretty and I like them alot but they are a tad too small. They keep slipping out of the eyelet holes which The Greatest likes, but I'm a little uncomfortable with. I was eyeing some really cute green dinosaur buttons and I think I will get those to go on the camisole. I like adding a touch of whimsy. I'll save these buttons to go on a dress I'm going to sew for Bird. Speaking of Bird isn't she cute?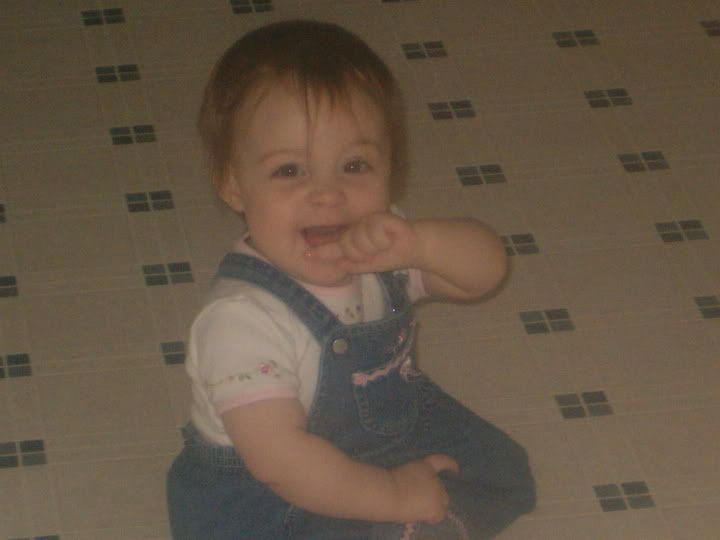 I can't believe she's going to be one next month. In unrelated topics I'm impatiently waiting for the Spring issue of Knitty, and while I wait I've been working on The Greatest's sweater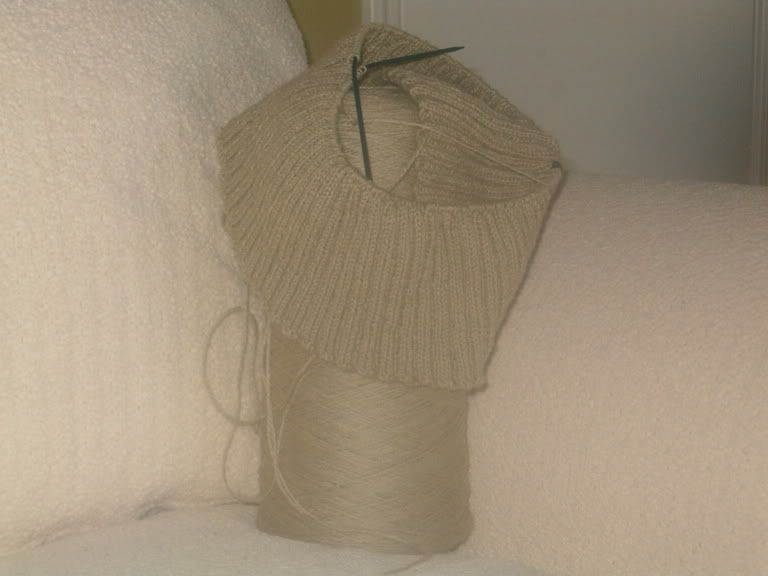 I love him, I hate the sweater. I hate the yarn, I hate trying to make this with no pattern, I love him, I hate size three needles with 315 stitches per round, I love him, I hate ribbing. But I love him so knit away I will, until a better project comes along.