The Greatest is up to something. I can tell. He thinks he's so sneaky, but I'm on to him. I'm not sure of his agenda, but he will make it known in a day or so. This is how I know he's working an angle.
I have my first knitting-related injury. I've been working so diligently on his sweater with the twine-ish yarn I've hurt myself. The twine-like yarn is removing the skin from my index finger, so knitting with it has become physically painful. This luckily coincided with the release of Spring Knitty. I showed him my finger and explained that I needed to stop working on his sweater for a while. He kissed my finger and suggested we go buy some new yarn so I can work on something with soft yarn while I wait for my finger to heal. I was agreable to the idea, but didn't haul my lazy butt off the couch where I had just been sitting and staring, mesmerized, at my raw finger. A few minutes later He was bugging me again about going out that night to buy new yarn. I said we could go if he wanted to. He then proceeded to get all the kids ready, shoes, coats, and in the car, while I sat still hypnotized by my finger (how can something I love so much betray me with such red ugly pain). He proceeded to pack me up in the car and take me to Jo-Anns. I was sad I couldn't find the yarn in the color I needed for
this
. But I did buy this.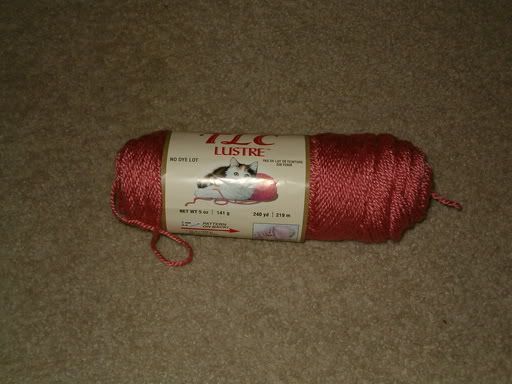 Yes it's acrylic, but it's cheap and soft and just what I need right now. Plus you can't tell from the bad photo, but it's the most wonderful coral shade. I'm making this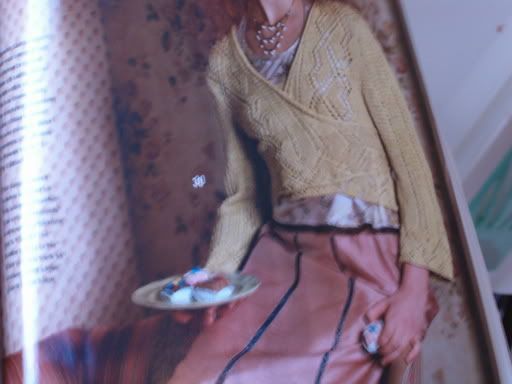 Yes, it's another bad photo. It's not Knitty, it's Vogue, and I've already found typos in the pattern. Honestly, you'd think they'd proof read the patterns before they send them for publication. After knitting the Nicole Camisole I've decided I like lace knitting and wanted to knit another lace-like thing. But I'm not going to make it so it ties in the back. Mine will button on the side.
But here's The Greatest's angle. In addition to being unusually sweet and supportive (I think that was the first time in her entire life that he had put a coat on Bird) He asked me on theway home if I was going to blog our SEX (Stash EXpanding EXpedition, get your mind out of the gutter, my Mother reads this blog, I wouldn't document that, geesh). I told him I probably would, and he told me to make sure I mentioned that buying yarn was all HIS idea. Wonder what's up with that.