I just love early spring, when the air is cool and smells green. It was such a perfect day yesterday. I sat on the front porch with Bird and tried to explain the changing seasons to her. She replied "ba ba ba maaaaaa." So I think she gets it. We opened all the windows in the house and just let the green air flow through (of course we all wore sweatshirts and the kids will probably wind up with pnemonia but I still loved it). It was kite flying weather so we hit the park. There is a very cool local park that is one huge wooden castle. Here's the picture I tried to take of the kids.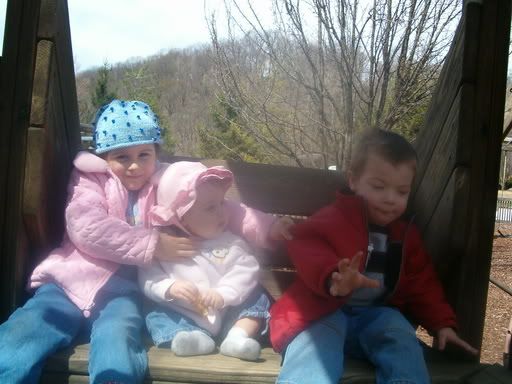 I try to stage such beautiful poses of sibling love but Meaty was on his own program. He couldn't pose for a picture, he had things to do (notice Pork Chop is trying to hold him in the frame). He's scared of heights, so I thought he would stick to the sandpit, the wooden car, maybe the swings. Imagine my surprize when he discovered that he was built for speed.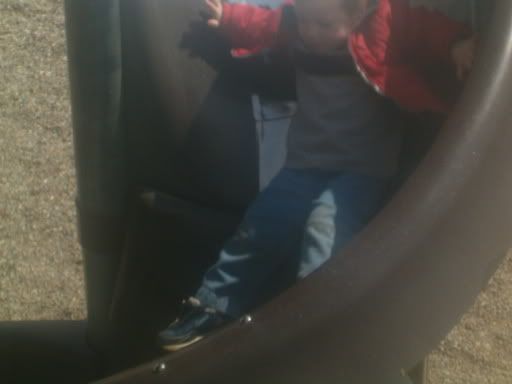 He loved the slides. He took one feet first on his belly, hit the bottom and went flying through the air. He got up muddy and laughing. He really enjoyed himself. These slides had gentle wooden staircases you take to get to the top, not ladders, that may have made the difference. I'm glad he took to the slides. It is more daring than he usually is.
Bird discovered swings.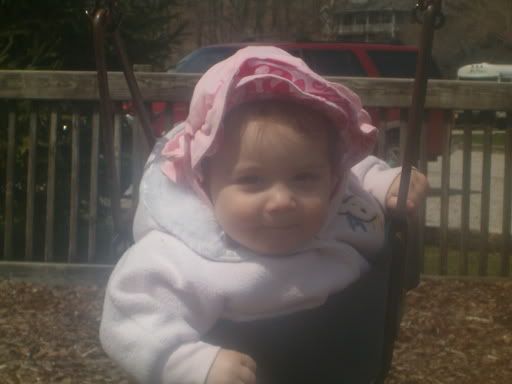 She loves them! She could have spent the entire two hours just sitting in a swing. I didn't even have to be standing in front of her, I just had to come by often enought to keep her moving.
Pork Chop was just happy to be outside.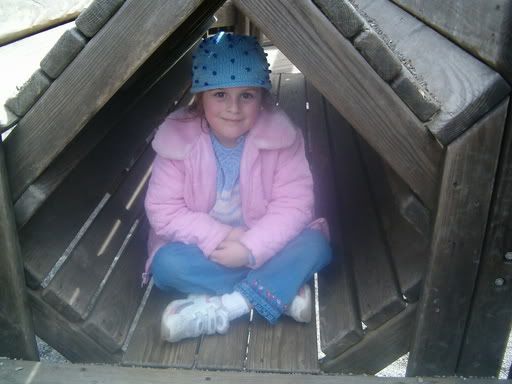 Even The Greatest didn't have a terrible time.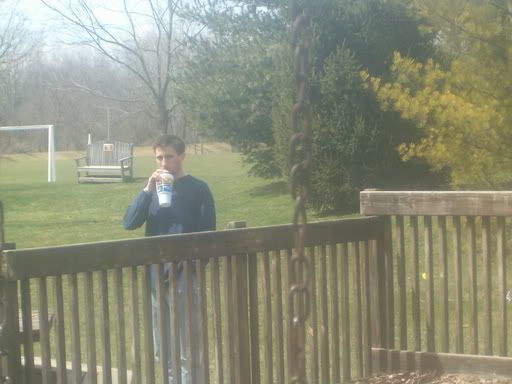 It was a completely novel experience for me to go to the park with him. Usually this is the kind of activity I do with the kids by myself while he is at work. I must confess sometimes it is insufferably boring to go to the park with the kids. I had the best time ever with him there.
I've been knitting like crazy on my camisole. Here's the bottom two thirds. Notice it's all finished.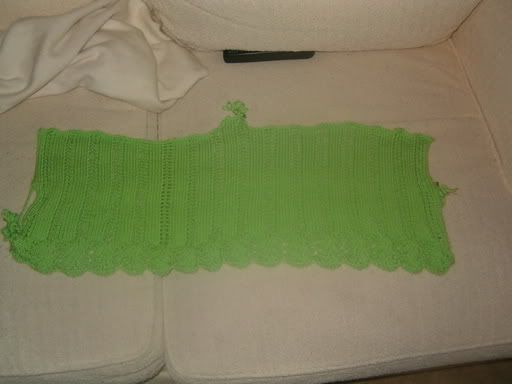 Here's a close up of the lace. My camera doesn't take good yarn pictures, but you get the general idea. The first picture is closer to the true color than the second picture.
I love this pattern. It's very easy to knit. I modified it to fit me better (I was exactly between a small and a medium) but even that was easy math. I should have this sucker done in no time. The yarn is fun to work with too. I'm test driving the pattern in cheap yarn. It's Lion Brand microspun (gasp acrylic) It's so bright and soft and easy to knit. It's much better than working on The Greatest's sweater (which is currently sitting neglected on top of the entertainment center).